Trinnov Audio Altitude-16 - Processor, preamplifier, network music player and 24-bit/96-kHz PCM DACs
15'719.00 CHF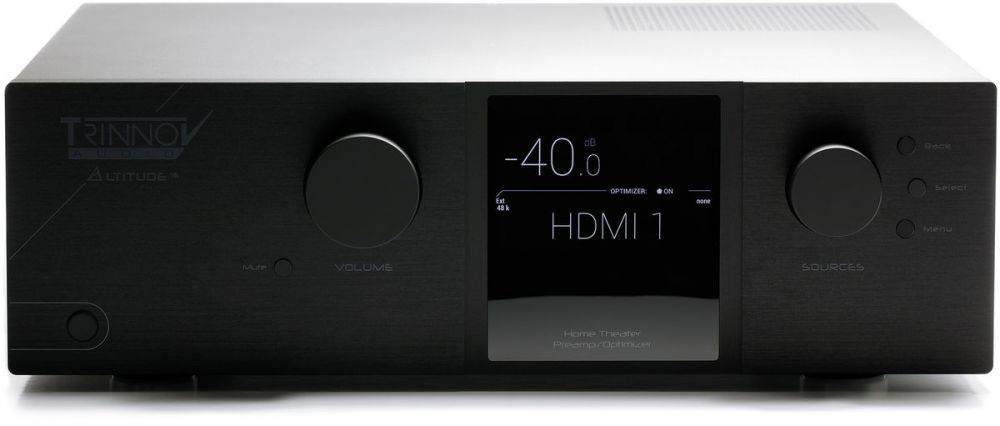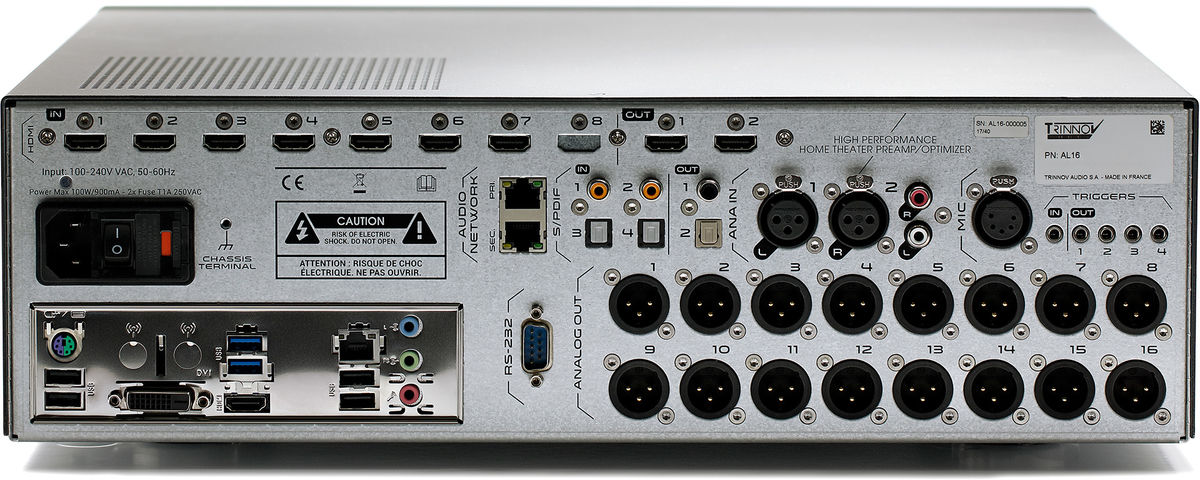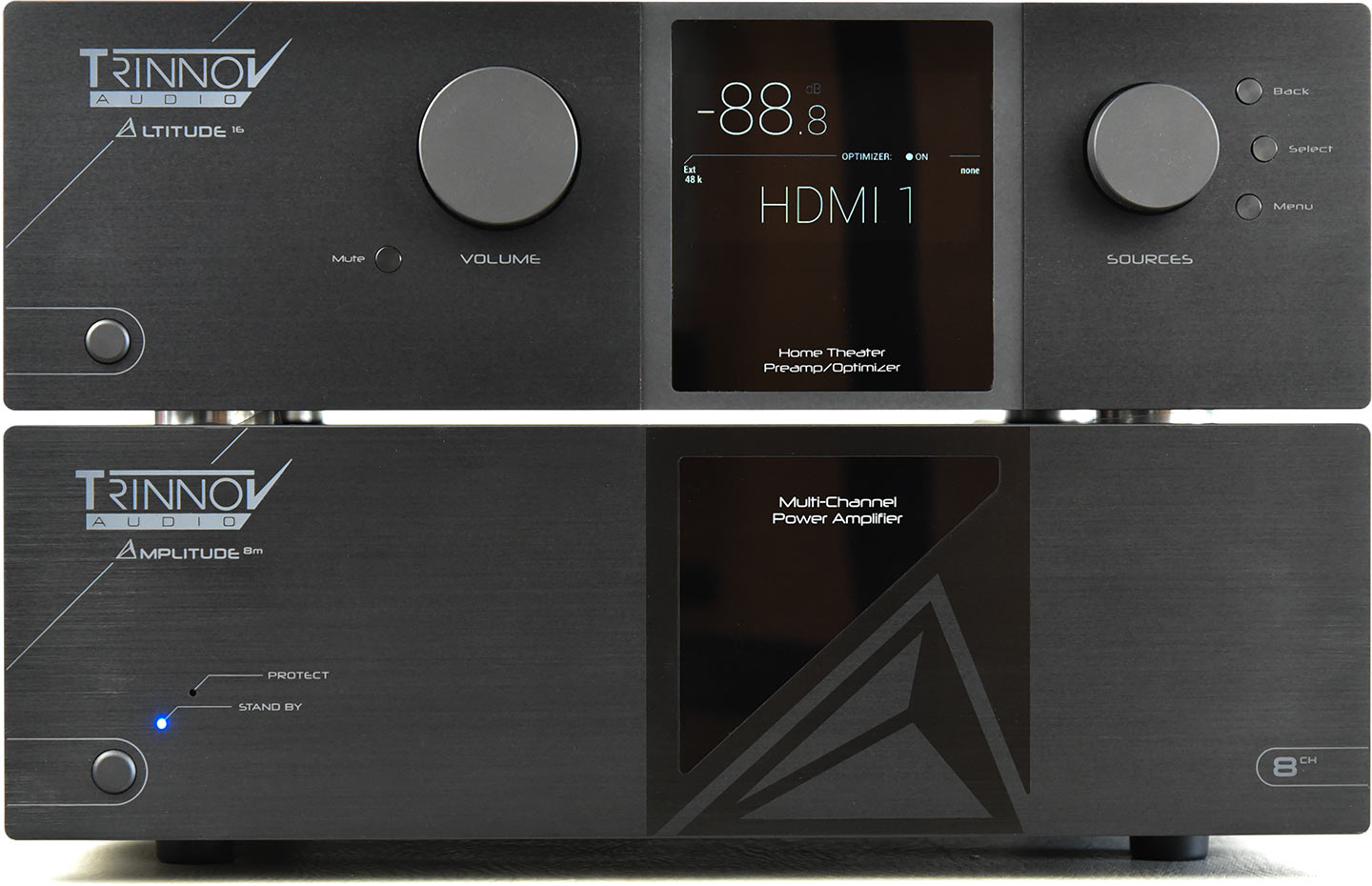 Following in the tradition of the groundbreaking Altitude 32 processor, the Trinnov Audio Altitude 16 brings Trinnov's award-winning Speaker/Room Optimizer technology, immersive audio capabilities, active crossovers, and unmatched bass management flexibility to a new, slightly smaller form factor with tremendous value.
Beschreibung
UNLEASHED HDMI
The constant evolution of the HDMI standard creates many challenges for manufacturers and integrators. Trinnov's proprietary software platform not only lets you monitor and analyze all HDMI streams directly from your processor but also offers unique solutions to get beyond HDMI incompatibility issues.

STEP BY STEP WIZARD
The Altitude16 comes with our own set-up software that facilitates the installation procedures for integrators. It guides them through a step-by-step process that defines how to best use available inputs and output channels as well as the desired speaker layouts. This new "wizard" greatly simplifies the initial set up procedure and calibration process.

ALL-INCLUSIVE DECODING PACKAGE
The standard version of the Altitude16 natively decodes Dolby Digital Plus®, Dolby TrueHD®, DTS Digital Surround®and DTS-HD Master Audio® It also includes all immersive codecs by default so you can experience a new world of immersive sound with the latest technologies by Dolby Laboratories®, DTS Inc®, and Auro Technologies®.

REMAPPING
Thanks to the 3D measurement capabilities of our microphone, each speaker's actual placement can precisely be localized in the room regarding distance, azimuth, and elevation. Knowing the intended placement of various sounds within the soundtrack (since we decoded it), we can then "remap" the sound objects from the theory of the soundtrack to the reality of your particular room, using the closest two or three speakers to create a phantom image of the sound where it should be. While 2D remapping deals mainly with the horizontal plane, 3D remapping will manage both azimuths and elevations.

UNIQUE BASS MANAGEMENT
Trinnov provides the most sophisticated solution on the market when it comes to managing low frequencies. With our intermediate bass management system you can, of course, specify how one or more subwoofers will reproduce the lower part of the spectrum for each channel. But it goes further: it even allows you to bass manage the low frequencies of a small speaker to the closest, more-capable speaker. It gives you complete control over crossover frequencies, filter type, slope, and even where the redirected bass will be reproduced.

UNIQUE EXPERTISE IN HOME CINEMA INSTALLATION
Trinnov has been collaborating for years with some of the most respected brands and integrators in the field, allowing us to work on some of the most ambitious home cinema projects of the past ten years. With the publication of our own recommended speaker positions guide, we are offering our expertise to all integrators, in addition, to our recurrent CEDIA Lectures.

THE CEDIA DESIGNER
TCD is an online design tool that allows its users to create technically impeccable cinema designs, support documents, and aesthetic renders, within minutes. TCD software supports the complete line of our High-End products, letting you integrate the Altitude in the most complex speaker layouts in a matter of minutes.

THE FUTURE OF IMMERSIVE AUDIO
The Altitude16 simply can do many wonderful things that no other processor can do because we do not depend on the capabilities of a mass-market DSP chip. We control the signal path from beginning to end.

16 CHANNELS OF HEAVEN
The Altitude16 can render up to 16 discrete channels of information and comes equipped with Dolby Atmos, Auro-3D, and DTS:X immersive audio decoders, it supports up to 16 outputs and natively processes high-resolution 24/96 audio, offering four-way active crossovers and no limitation in terms of subwoofer outputs.

Spezifizierungen
Spezifikationen
Frequenzgang : 24 bits/96 kHz
kompatible Formate : DOLBY ATMOS®, AURO-3D®, DTS:X®, FUTURE 3D DECODERS
Abtastrate : DAC Resolution / Sampling Rate: 24 bits/96 kHz
Typ DAC : 24 bits/96 kHz
Interne speicher : Nein
Ripper : Nein
DSD Native : Nein
Rauschabstand : A/D Signal-To-Noise Ratio: 119 dB (A-Weighted) D/A Signal-To-Noise Ratio: 118 dB (A-Weighted)
Verzerrung (THD) : Nein
Autonomie : Ohne Batterie
Stromversorgung : 240V AC / 50-60 Hz
Artige Spannungsversorgung : Nein
Abklingzeit : Ohne Batterie
Tone Corrector : Ja
Optionale Module : Nein
Lautstärkeregler : Ja
Audio Anschlüsse
Cinch-Eingang : 1x
XLR eingang : 1x
Eintrag jack : Nein
Interner Phono-Eingang : Nein
Eintrag HDMI : 7x
Eintrag USB : Nein
Digitaleingang : 2x Coaxial SPDIF, 2x Toslink
konfigurierbarer Eingang : Nein
Kopfhörerausgang : Nein
Cinch ausgang Pre out : Nein
Meldeausgang : Ja
XLR Ausgang Pre out : 16x
Subwoofer-Ausgang : Nein
Cinch-Ausgang : Nein
Ausgang XLR : 16x
digitaler ausgang : 1x Coaxial SPDIF, 1x Toslink
Ausgang USB : Nein
Ausgang HDMI : 2x
Sortie Exakt link : Nein
Online-Service : Via UPNP
Radio : Via UPNP
Bluetooth : Nein
NFC : Nein
AirPlay 2 : Nein
MusicCast : Nein
4K : Nein
AirPlay : Nein
Chromecast : Nein
Daten Anschlüsse
RJ45/Lan Port : Ja
IR in : Ja
IR out : Ja
Trigger : Ja
RS 232 : Ja
Control bus : Nein
WiFi : Nein
Software-Update : Ja
kompatible Anwendung : IOS et Android
Multiroom : Nein
Raumanpassung : Ja
Größe
Größe (HxBxT) : 138,4 x 438 x 430 mm
Zubehör : 1x Netzkabel
Veredelung : Schwarz
Gewicht : 11.3kg
Garantie : 2 Jahr